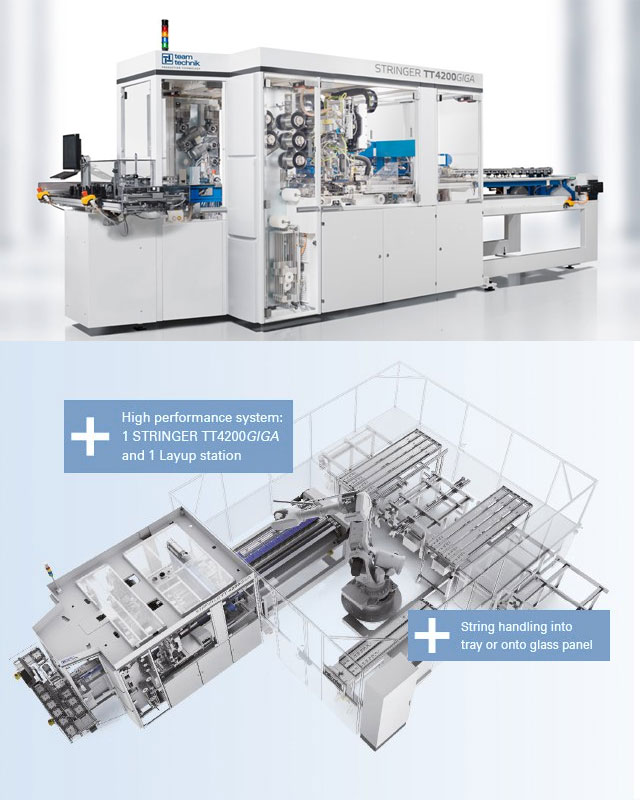 Teamtechnik Maschinen and Anlagen GmbH
Teamtechnik has been engaged in solar technology since 2003 and now leads the market with its high-performance systems and non-contact soldering processes. The Stringer IT systems are among the fastest in the world. Solar technology from teamtecknik exemplifies the company's insistence on flexibility, cost- cutting and state of the art technology.
More than 500 highly qualified employees implement turn-key assembly and test-technology systems for you. Development, design and construction from a single source - and a reliable service team to care for our customers, round the clock.
Modular systems of certified quality (ISO 9001 / VDA 6.4), highly flexible and economical - that's what the name of teamtechnik stands for.
Our goal is your market lead. Right from the start.
Unique Single Track System

Technical avalibility > 95%

3 sec. cycle per cell

Cell breakage < 0.3 %

Available in two options : 900 an 1200 cycles per hour

Seperation of assembly and soldering process

Flexibility on soldering : IR - light/Laser ( Contact less soldering)

Patented Hold Down Device
NEW ENERGY

E-MOBILITY

MEDTECH
Unique Hold-Down Device System
Patented system

Separation of handling and soldering process

Reduces complexity and enables non-contact IR light soldering

Precise ribbon positioning thanks to hold-down devices and vacuum transport belts

Guarantees a reliable and repeatable quality
Non - Contact Soldering
Closed loop controlled process technology

Homogeneous heat distribution on cells