Introduction
Device Programming Solutions for Global Market
Data I/O is the world's leading provider of manual and automated security provisioning and device programming systems for Flash, Microcontroller and Logic devices. Since 1972 Data I/O has developed innovative solutions to enable the design and manufacture of electronic products for automotive, InternetofThings, medical, wireless, consumer electronics, industrial controls and other markets. Today customers use Data I/O's security provisioning and programming solutions to reliably, securely and costeffectively bring innovative new products to life.
Data I/O with headquarters in Redmond, Washington and offices located in Shanghai, China and Munich, Germany, is the only true global programming solutions provider offering local service and engineering support 24/7.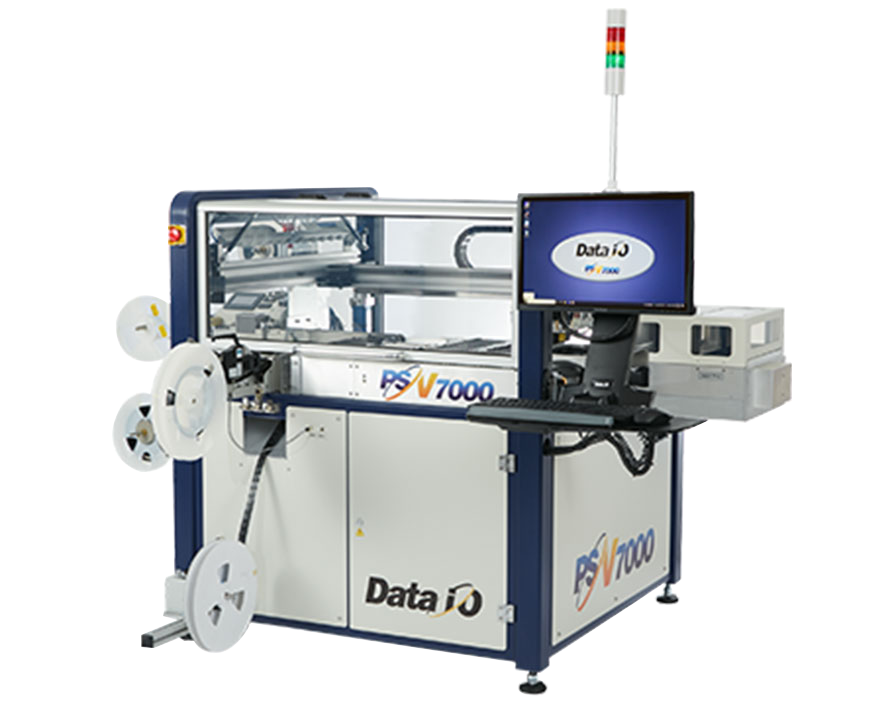 PSV Family—Automated offline programming solutions
Scalable up to 24 programmers (96 FC3 sockets / 112 LumenX sockets) Concurrently installed media options for zero mechanical changeover
Tapein / Tapeout

Static trayin/ trayout

Automatic tray feeder

Tubein/ Tubeout

Fiberlaser marker

3D coplanarity

Small parts handling down to 1.5mm x 1.5mm

Large parts handling up to 42.5mm x 42.5mm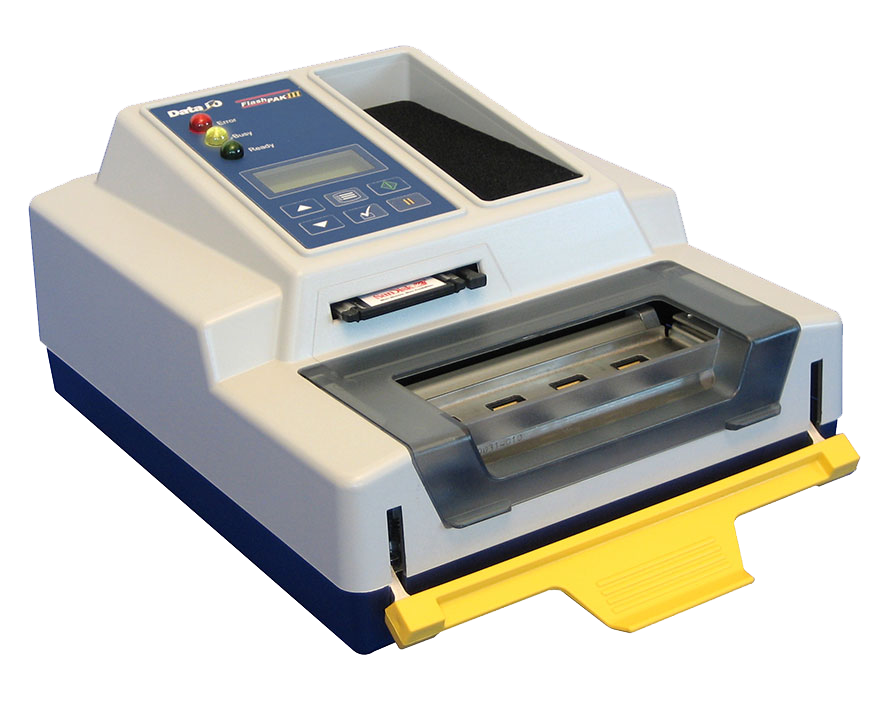 FlashPAK III – Desktop Manual Gang Programmer
Programs up to 4 devices in parallel

Programs at the speed, Read and write speeds > 20MBytes/s, Support for files > 16GBytes

Ethernet connectivity (100 BaseT)

Stand alone operation, using Compact Flash Card

TLWIN for easy Job setup and process control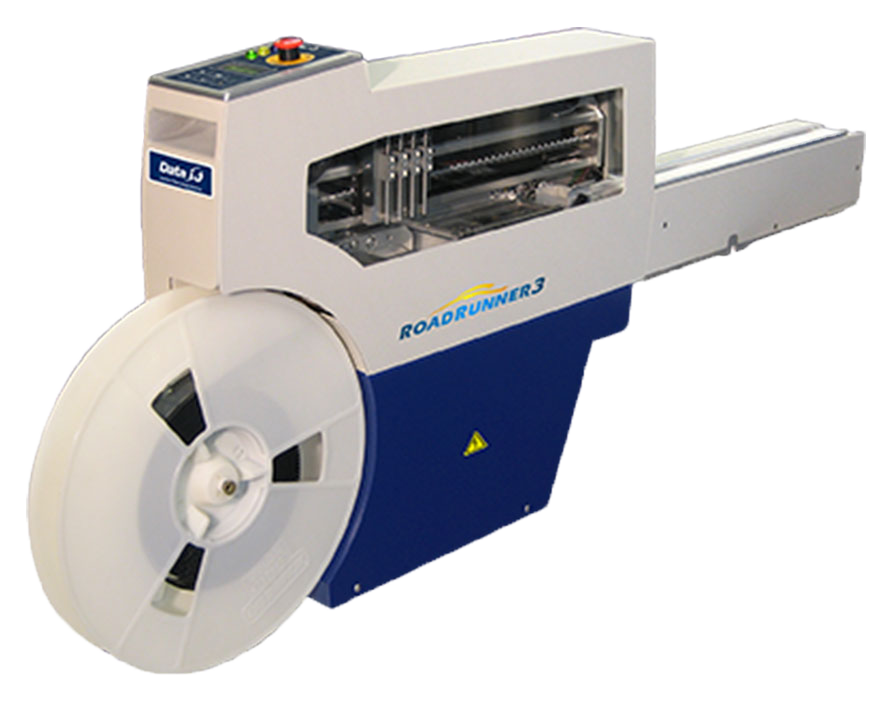 RoadRunner 3: Justintime Inline Programming
In-line device programming solution

Attaches directly to SMT placement systems, the RoadRunner family supports most major SMT machines

100% good/tested parts passed to mounter for placement

Lean manufacturing – no offline preprogrammed inventory

Optimizes testers by removing programming burden

FlashCORE III technology – fastest programming possible

Network addressable Remote monitoring, IP security

Proprietary socket modules for highest quality yield available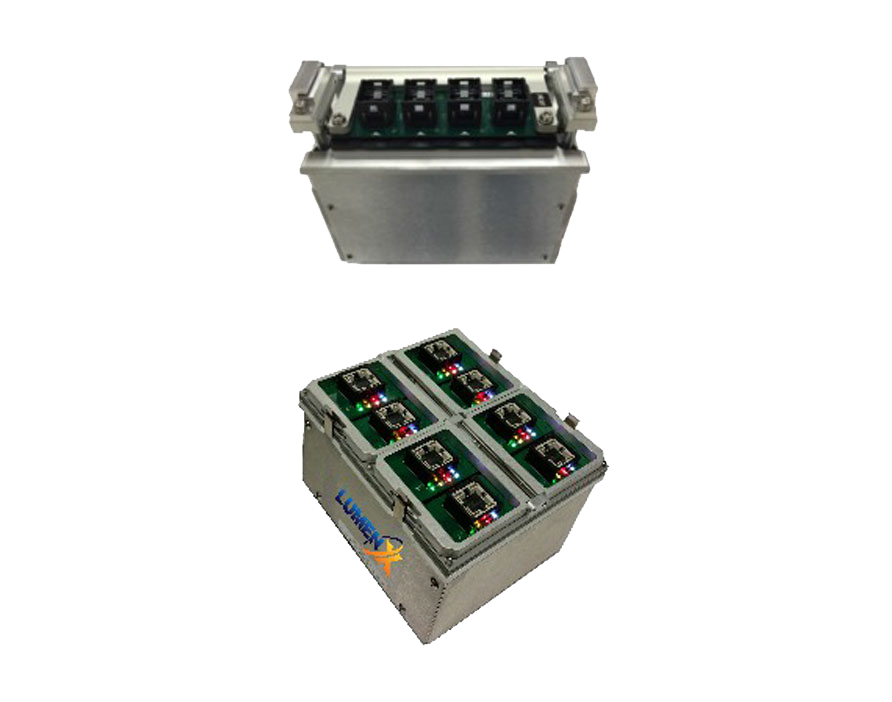 Universal Device Support
Flash Memory (NOR, NAND, MCP, MMC, e.MMC, SD, MoviNAND, OneNAND, iNAND, Serial Flash, EEPROM, EPROM and more), Microcontrollers and Logic devices (CPLD, FPGA's, PLD's and more), Universal Flash Storage (UFS 2.1)
Package Support
PLCC, SOIC, SON, WSON, SSOP, CSP, BGA, uBGA and FPGA, QFP, TQFP, TSOP, PoP, DIP and more
Socket Adapters Support
Standard Socket Adapters

Receptacle Socket Adapters

HIC (High Insertion Count) Socket Adapters
Device Testing
Continuity, checksum, blank check, misinsertion test, verify & backwards device.